---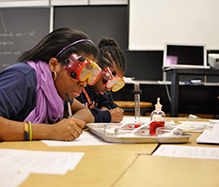 The Sherman Scholars program supports and prepares high-quality teachers in STEM fields to teach in urban schools. Scholars in early childhood and elementary education prepare to be experts in teaching and integrating STEM subject areas, while secondary candidates become experts in teaching their STEM discipline.
Sherman Teacher Scholars demonstrate the following qualities:
strong academic aptitude and enthusiasm in STEM disciplines
commitment to social justice and community engagement
open-minded and reflective in mindset and practice
principled in belief that all children deserve a high-quality education
A generous gift from George and Betsy Sherman, founders of the Sherman Family Foundation, supports the Sherman Teacher Scholars Program.