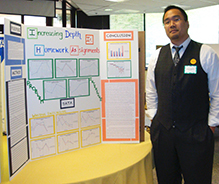 What we offer
The Sherman Scholars program supports and prepares high-quality teachers to teach in urban schools. Scholars in early childhood and elementary education prepare to be experts in teaching and integrating STEM subject areas, while secondary candidates become experts in teaching their discipline.  Students either pursue an undergraduate certificate or a Masters' degree in education.  Candidates may be incoming freshmen, transfer students, upperclassmen, or graduate students.
Approved Majors
The Sherman Teacher Scholars Program is open to all students pursuing a teaching certificate in elementary or early childhood education, or a secondary education.  The most common majors are:
American Studies
Biological Sciences
Chemistry
Computer Science
Engineering
Geography and Environmental Sciences
Interdisciplinary Studies
Mathematics
Physics
Education Certificate
Early Childhood
Elementary
Secondary (STEM Disciplines)
Undergraduate Students
Early Childhood and Elementary Education

– All majors are eligible for early childhood candidates, while specific majors are identified for elementary candidates.  All candidates should have a desire to work in urban and high-needs schools.

Secondary Education

– You may earn a Bachelor of Arts or Bachelor of Science in one of the STEM disciplines (Biological Sciences, Chemistry, Computer Science, Engineering, Geography and Environmental Sciences, Mathematics, and Physics.  UMBC also offers B.A. degrees in physics education and chemistry education for those interested in teaching at the secondary level.  You may also opt to earn your certification in our undergraduate certificate program or in our graduate Masters of Arts in Teaching program.
Graduate Students
We are currently seeking students who are entering UMBC's accelerated or two-year Masters of Arts in Teaching program for initial teacher certification.  Early childhood, elementary, and secondary STEM candidates will be considered for application.