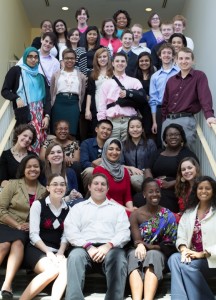 The foundation of the Sherman Teacher Scholars Program is our high achieving students who possess a passion for STEM disciplines or early childhood education,  and a passion for social justice connected to providing quality education for all children. Sherman Scholars have meaningful experiences that position them to attain academic success and to be well prepared for student teaching and full-time employment.
It is our goal to help students fund as much of their academic costs as possible.  Sherman awards range from $3000-$15,000 per academic year.  We assist our students in finding additional financial resources.
UMBC Scholar
First Year Experience course: This is a one-credit course for the incoming cohort of scholars. The purpose is to prepare students for the transition to UMBC, to introduce scholars to the expectations and ways of the Sherman Program, and to build community within the cohort.
Academic Coaching: In addition to academic advisor(s), students are advised by program staff. Program advising begins for incoming freshmen during the summer prior to matriculation and for all other students during the application process.  Our philosophy of advising is that it is collaborative, goal-oriented, and comprehensive with a focus on short- and long-term goals.
Applied Learning Experiences: All Scholars participate in at least two semester-long Applied Learning Experiences in a school-based setting. Students volunteer at least three hours per week for a semester at a consistent service site.  Placement sites include Lakeland Elementary/Middle School, Green Street Academy, Benjamin Franklin High School, Upward Bound Programs, The Judy Center at Commodore John Rodgers, and more.
Community: Scholars say the most salient component of the program is membership in a community of STEM scholars and teachers, which we call the "Sherman Family." There is deep and sincere appreciation, concern, and respect among Sherman scholars and alumni. They support one another, advise one another, and celebrate one another.
Professional Development: Through meaningful Applied Learning Experience placements, such as service-learning, fellowships, and research, Sherman Scholars gain experience working in educational settings and interacting with preK-12 students under the guidance of teacher-mentors and youth-advocates. Program staff engages students in reflection and assessment, which are among the chief skills of competent teaching.
Pre-Service Teacher
Education Internship:  Scholars complete a teaching internship through the UMBC Department of Education.  At UMBC, the internship is separated into two phases.  In Phase I semester, students complete at least 20 full days of teaching at their placement site.  In the following semester, students complete at least 80 full days of teaching in their Phase II placement.
Mentoring: Sherman staff provide additional mentoring and support for teacher candidates, focusing on preparing to be teachers in urban, high-needs, and multi-cultural classrooms.  Students meet with Sherman Scholars staff at least once per month during the internship.  Sherman staff also conduct at least one classroom visit per month to provide feedback.
Teacher Candidate Seminar:  Sherman staff host a monthly session focusing on specific topics, such as parent engagement, classroom management, and culturally responsive teaching.  Guest speakers include expert faculty and practitioners in the field.
Teacher
Professional Support – Scholars receive professional coaching and support to help students pursue employment in teaching, particularly in urban and high-needs schools.  This includes resume review, practice interviews, letters of recommendation, and connections to human resources staff.
Alumni Support: Our support, through coaching and community, continues when scholars graduate and enter the classroom as teachers. We are committed to guiding our alumni through the first few years of teaching.